Tuition Assistance for Students in LESA-Member Schools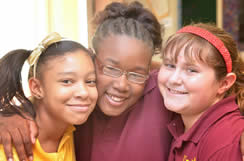 LESA's Building Blocks scholarships offer financial aid to children from economically disadvantaged families who wish to attend LESA-member Lutheran elementary schools in the metropolitan St. Louis community. Our mission is to touch the lives of children and families through an academically-focused, faith-based elementary school experience and make a positive difference in their future. Since its inception, Building Blocks' programs have awarded 7,622 tuition-assistance scholarships to 3,179 individual students totaling nearly $4.6 million. Today, one of every ten students in LESA schools receives help with the cost of elementary school tuition through Building Blocks. Our goal is to give financial aid to all who qualify and apply.
Funding for Building Blocks scholarships is raised through LESA's fund development efforts. The LESA Endowment for Scholarships provides base funding for tuition assistance, and that funding is supplemented by proceeds from LESA' special events (A Night for Kids Dinner Auction each spring and Brew in the Lou festival each fall), financial gifts from donors, bequests, memorials and honorariums, corporate and individual sponsor-ships, matching funds from the LESA Board of Directors, and grants.
Families will qualify for some level of financial assistance from LESA's Building Blocks program or the Missouri District Scholarship Program (for students attending kindergarten-8th grade programs in Missouri LC-MS schools) if at least 10% of their adjusted gross income, as reported for the previous tax year, is used to cover the cost of their child's/children's Lutheran kindergarten-8th grade tuition. Consideration of requests will be given on a case-by-case basis to families expending less than 10% of their income on Lutheran elementary school tuition, provided extenuating circumstances exist.
Missouri District LC-MS Scholarship Program
Need-based tuition assistance is available to students in kindergarten through 8th grade who are enrolled in LC-MS Missouri District elementary schools through the Loftus Trust, a tuition-assistance fund gifted to the Missouri District. The application process and procedures, below, apply for families seeking funding from the Missouri District's program. If your child is enrolled in a Missouri District school that is a member of LESA, only one application is required to receive consideration under both LESA's Building Blocks and the Missouri District programs.
LESA's Building Blocks Scholarship Fund and the Missouri District Scholarship Program funds have been awarded for the 2018/2019 academic year.  Please contact the LESA office at 314.200.0790 or 314.200.0799 before completing a TADS application for funding from these two financial aid resources for the 2018/2019 year.
How To Apply for LESA Building Blocks, Lutheran Association for Special Education (LASE), or Missouri District Tuition Assistance
Application Procedure for 2018/2019 Tuition Assistance through LESA's Building Blocks, Lutheran Association for Special Education (LASE), and the Missouri District tuition-assistance programs:
Scholarships do not renew automatically. Families seeking assistance with the cost of tuition through the LESA Building Blocks, LASE, or Missouri District programs must apply for funding each year, as available funding varies from year-to-year based on each program's fundraising success; also, the number of students qualifying for assistance varies each year.
The LESA Building Blocks, LASE Scholarship, and Missouri District Scholarship programs use the TADS Tuition Aid Assessment online application process.  To apply for assistance, families submit an online application found at mytads.com/fa/lesa. In addition to completing the application and paying the application fee, families must provide 2017 federal income tax documents, or other documents requested by TADS in the application verification process, to substantiate financial need.
Applications which are submitted online no later than April 1, 2018 and which have been verified by TADS as complete by April 16, 2018, will be eligible for funding consideration. A "complete" application is one which has undergone a review process by TADS that substantiates financial information provided by the family in the online application process with the income documentation the family provides after the application is submitted and has "good" quality rating. In addition to notifying school administrators, families will be notified by May 31, 2018 directly by LESA regarding Building Blocks and Missouri District tuition-assistance award determinations, and directly by LASE for tuition assistance through the Lutheran Association for Special Education.  All applications received after this date will be considered on a case-by-case basis if funds remain following the May awards.
Application Procedure
1. All applications will be submitted ONLINE through TADS at mytads.com/fa/lesa.
2. To submit an application, each applicant family is required to pay a $34 fee.
3. Please do not hesitate to contact the LESA office at 314-200-0790 if you have questions on the Building Blocks or Missouri District tuition-assistance programs  or the LASE office at 314-268-1234 if you have questions on the Lutheran Association for Special Education tuition-assistance program.
4.  TADS service representatives are available to answer questions on the TADS online application or required documentation.  They may be reached through online chat or by telephone at 1-800-884-8237 from 8:00 AM to 8:00 PM central time.
5. Once your online application has been submitted, remember to immediately submit the required income documentation to TADS (2017 W-2's, 2017 federal income tax form,  and recent pay stubs, as well as any other information the TADS auditors request to confirm information submitted on the application) , following the instructions on the application screen. Income documents may be uploaded, faxed, or sent through US mail.
6. Only those applications that are submitted online by midnight April 1, 2018 and are verified as "complete" by TADS by April 16th are eligible to receive consideration for the May 2018 awards.
7. Upon completion of application review and award determinations by the Scholarship Awards Committees, school administrators and families will be notified of LESA's Building Blocks and Missouri District award decisions by May 31, 2018 directly by the LESA office.  Families submitting applications for LASE tuition assistance will be contacted directly by May 31, 2018 by the LASE office of those award determinations.
For more information on the Building Blocks or Missouri District scholarship programs,
email Maureen Gersman (mgersman@lesastl.org) or Sue Nahmensen (snahmensen@lesastl.org) or call 314-200-0790 with your questions.
Questions on the LASE scholarship program should be directed to the Diane Stout at diane.stout@lutheranspecialed.org or by calling 314-268-1234.