Activities to exercise your child's brain this summer!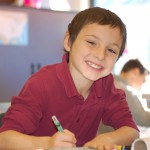 There are discussions about the benefits of year-round schooling however, we contend that summer education doesn't have to be in the classroom. Here are several activities to help keep your children learning–spiritually, academically and socially–through the summer without taking away the fun.
READING AND WRITING
Engaging your kids in reading and writing skills over the summer is key to improving learning throughout the year — so here are some creative activities.
Create a book club: A great way to mix the social "play dates" with creativity. A summer book club for kids reinforces reading as well as socialization.
Keep a journal: Show kids how they can keep a journal, writing about the activities they do over the summer.
Enroll in summer writing camps: Find several summer writing camps for older kids by searching Summer Writing Camps St Louis.
Read throughout the day: There are all kinds of ways to encourage your kids to read throughout the summer, not just books. Fiction and non-fiction abounds on the Internet. To help you decide if a book is appropriate for your child's age, check out www.commonsensemedia.org.
Write a comic book: Have your children develop creativity, writing, and humor with a fun comic book or start with a weekly comic strip. They can even work on this project with a friend, collaborating on the dialogue and the artwork.
Select books or stories about your summer activities: Before heading to the beach or picking up a basketball or even watching a movie, find books about the activities or the book behind the movie.
Compose emails: You children can practice writing by composing emails and sending to friends and family about their summer time fun.
Read in bed: Encouraging your child to read in bed, even if it delays bedtime a bit, is a great way to get them to read. It feels like a special treat to get to stay up late and reading relaxes after a busy summer day.
Create a blog: Sharing summer activities with friends and families with an online blog helps children practice with their writing. This article will help you get started.
Read everywhere: Read street signs, billboards, and anything else you can find while you're on the go this summer. 
Allocate family reading time: Set aside a time everyday when the whole family reads, by themselves or all together.
Leverage comic books: Comic books are a great way to generate interest in reading for your child.
Read out loud every day: Poolside, beachside or even before bed, read aloud to your child and have them read aloud to you every day.
Summer reading camp: Enroll your child in the Summer Challenge from Scholastic.com. It's a competitive, virtual reading camp that kids of different ages can enjoy. 
GET OUT AND PLAY
Staying active and outdoors can be a fun way to learn and grow over the summer.
Watch a baseball game: Whether it's a Cardinals game or other more affordable local teams or even a Little League game, talk about the strategy of baseball as you watch.
Visit a museum: Art, history or even the City Museum are a great way to learn over the summer. Many museums have summer kid's programs. Visit their websites to see what they have to offer.
Dine out: Help your kids do menu math at a restaurant. Ask them what they can afford with different amounts of money. For older kids, have them factor the tip at the end of the meal.
Take a tour: Museums aren't the only way to learn while taking it all in. There are a variety of factory tours or even local art studios to help your children learn how every day items are made.
Go camping: Helping plan a camping trip is an excellent lesson for children. Once you arrive, allowing your child to participate in setting up camp and preparing meals helps build confidence and self-sufficiency. Kids can learn to identify different plants or terrain as well.
Visit a park: Whether local or one of the great state or national parks, offer a multitude of learning activities while building a family experience.
Don't forget the Zoo: St. Louis has one of the top zoos in the country. Have your child research different animals prior to your visit.
STAY HOME AND PLAY
You don't have to be out and about this summer to find learning experiences. Staying home offers its own opportunities.
Be crafty: Plan a weekly crafting day with your kids and for your kids and their friends. Here are some ideas. 
Building a playhouse: You can combine outside fun while practicing measurement and safety by constructing a backyard treehouse. If that feels ambitious, building an in-the-house tent city can be a fun engineering project too.
Set up a lemonade stand: The classic lemonade stand offers many lessons in math and business.
Plan a game day: Board games help children hone thinking skills, while having fun with friends or family.
Track the daily weather: Show your children how to track temperatures and weather during the summer. Here's a great online resource.
Calculate the family's environmental footprint: Show your child how to use the EPA's personal emission calculator to learn about your family's emissions and to discuss how you can reduce your impact. 
Plant a garden: Help your kids learn about sustainability, nutrition and physical growth with a backyard garden. This site is a good resource.
Play Monopoly: By playing Monopoly for your family game time, your child can play the "banker" to count money and make change.
OTHER ACTIVITIES:
Finally, there are hundreds of fun and entertaining activities to help kids prevent brain drain over the summer.
Grocery shopping: Often we're trying to just get this chore done, however, it's fun to make it educational as well. Have your child practice match skills and plan menus.
Make a robot: There are many St. Louis based robotics camps at Washington University, STEM programs, and Snapology.
Keep a photo journal: In addition to getting your children writing over the summer, your child can also use a camera and notebook to create a photo journal.
Use puppets: Your kids can use their imagination to write and "produce" puppet shows over the summer. Puppets can be made out of many household items.
Fun with science: Put your kids minds to work by turning them into scientific researchers with various summer time experiments. 
Make a game: Create your own board game or your kids can try their hand at a digital game at Kodu or Scratch.
Play travel games: Taking a long car trip? Introduce your kids to some of those games we played as children like ABCs.
Map your travel: Show your kids how they can help plan a vacation, help create a map or even book travel online.
Don't forget summer camps: There are many camps around the area from robotics to web design to health camps to help keep your kids brains working. We sponsor our very own vacation Bible school camps and other camps. Call us at 314-200-0797 for more details if you are looking for a Lutheran summer camp.
GO ONLINE
There are hundreds of online resources to make learning fun this summer. Here are just a few: