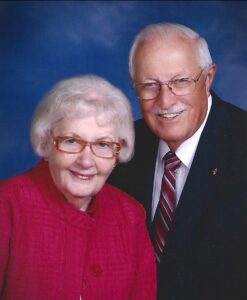 (September 1, 2021) St. Louis, Mo – The St. Louis-based Lutheran Elementary School Association (LESA) is pleased to announce the newly established Duane and Marjorie Hingst Education Endowment Fund established in memory of Duane Hingst and in honor of his wife, Marjorie Sandfort Hingst.  Duane was recently called to his heavenly home this summer and is survived by his wife, Marjorie and his three children. His children decided that in honor of his lifetime service to Lutheran education and what would have been his 90th birthday on October 9, 2021, establishing this named endowment would be a perfect vehicle to continue his legacy and honor their parents.
Dedicated to Lutheran education, Duane who served as the Executive Director of Lutheran schools for the Lutheran Church Missouri Synod's Missouri District, began his ministry as a Lutheran school teacher. Like many Lutheran school teachers, he also served as choir director, basketball coach and an overall champion of Lutheran education.  He believed strongly that Lutheran schools provide individualized education, which extended to extracurriculars that included sports, band, choir, field trips and more.  He was passionate that all children who wanted to attend a Lutheran school could do so; finances should not be a factor in their ability to attend.  "The benefits of a Lutheran education extend far beyond the classroom; the influence of caring teachers and pastors help shape a worldview with Christ at the center of every choice one makes," says their daughter Dawn Anderson.
Establishing the Duane and Marjorie Hingst Education Endowment to benefit the students and schools served by the Lutheran Elementary School Association seemed like a natural choice to honor Duane's legacy in Lutheran education.  LESA has awarded more than $6.5 million in need-based tuition assistance impacting the lives of 3,882 children through its Building Blocks Scholarship Fund. "LESA is delighted that Mr. Hingst's family has decided to honor Duane's ministry through the establishment of this endowment. His legacy of service to Jesus Christ and to Lutheran schools in our community will live on in the lives of the students served by the proceeds of this legacy gift," says Sue Nahmensen, Chief Executive Officer.  "LESA is blessed to hold $10 million in endowments restricted for Building Blocks Scholarships and Programs and Operations."
We invite you to continue helping children attend Lutheran elementary schools now and in the future by donating to the Duane and Marjorie Hingst Education Endowment Fund. Click here to learn more.
More than 8,300 children of all faiths attend Lutheran Pre-K, elementary and high schools in the St. Louis Metro Area, making it the second largest private school system in the Bi-State Region.
Founded in 2004, LESA provides educational support services to 34 member schools – including four National Blue Ribbon Schools and three National Lutheran School of Distinction – and three related agencies. LESA is a Recognized Service Organization of the Lutheran Church-Missouri Synod.
###
Katherine Auble
Director, Fund Development & Marketing
Lutheran Elementary School Association
11123 South Towne Square, Suite F
St. Louis, MO 63123
314-200-0797