Café Napoli owner 
Tony

 Pietoso is cooking things up in the kitchen to support Lutheran schools and the educators who changed his life.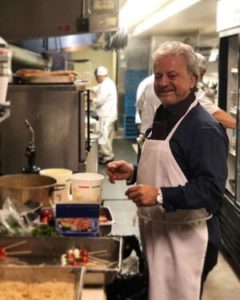 Pietoso, an alumnus of Lutheran North and co-founder of the Napoli family of restaurants, will headline the St. Louis-based Lutheran Elementary School Association's 2021 Cooking for Kids Virtual Dinner-Auction, Saturday, April 17, 2021 at 7 p.m. Proceeds from the event will support need-based scholarships and educational resources for students of all faiths attending 35 Lutheran schools in the St. Louis area.
"Lutheran education changed my life because it made me a better person and made me who I am today," said Pietoso, who grew up in Lutheran-run orphanages in Italy after his parents became unable to care for him and his siblings. "The caring they gave me, the love they gave me, pretty much made me who I am today. It was good guidance from the beginning. I owe Lutheran schools everything right now."
Pietoso moved to St. Louis when he was 15 after the former director of one of the orphanages, Al Landes, invited him to play soccer for Lutheran North, where Landes had moved to teach. Pietoso went on to play soccer for St. Louis Community College before making St. Louis his permanent home.
To honor Al Landes and all of the Lutheran educators who helped shape him, Pietoso and Café Napoli are offering two Chef Tony Pietoso Cooking Kits for purchase to benefit Lutheran schools – Ravioli Truffle Burrata and Chicken Parmesan. Each kit includes the necessary ingredients and a premium bottle of imported Italian wine selected by Tony's son, Ande Pietoso, general manager of Cafe Napoli in Clayton. Kits are $60 each and include a recipe, detailed instructions and a link to an exclusive cooking demonstration featuring Tony in Cafe Napoli's kitchen. Kits will be delivered directly to your door, and each purchase is entered to win a gift card to Café Napoli. (Order Deadlines: Orders placed by Thursday, April 15 will be delivered Saturday, April 17 (event day). Delivery can be also delayed to the week of 4/26, if diner prefers. Orders placed after after April 15, will be delivered the week of April 26.)
The virtual event includes a live auction, scholarship fund-a-need, 50/50 drawing and special tributes to our Lutheran luminaries – Zion-Belleville student Anna Spelbring – LESA's 2021 Lutheran Student Christian Leader, Legacy Honorees Vernon & Joann Schroeder (photo, left) and the 500 Lutheran educators who have been teaching students in-school throughout the pandemic. Master of Ceremonies Jim Dankenbring and auctioneer Dave Drewes will host the event. Bidding for the online auction opens April 10 at LESAstl.org. Premium prizes include a Bourbon Tasting in Kentucky, a week-long stay in Sanibel Island, Florida, Dinner for Four at the new Tony's Restaurant in Clayton, Cardinal's Field Box Seats, Blues Hockey Tickets, Bose Sunglasses, an autographed Tony La Russa Jersey, Massage Envy Gift cards and other gifts for Mother's Day, birthdays and more. The virtual program is free of charge. 
Cooking for Kids is LESA's largest annual fundraising effort to support and sustain the future of Lutheran Christian education in the St. Louis Metro Area. Last year's Cooking for Kids raised $257,000 for need-based scholarships and educational resources such as STEM programs, professional development and curriculum guides.
Since 2004, LESA has awarded more than $6 million in financial assistance to families of all faiths in St. Louis and southern Illinois. To help advance that mission, the Lutheran Legacy Foundation has pledged to provide a generous match for endowment gifts and pledges made in 2020. There is also a $50,000 match for scholarship gifts raised at Cooking for Kids that is  being offered by a generous donor.
To sponsor the program or tribute ad, or donate an item for this year's Cooking for Kids, contact Katherine (Kit) Auble, LESA's Director, Fund Development and Marketing, at 314-200-0797, or kauble@lesastl.org
About LESA
More than 8,200 students attend Lutheran schools in the St. Louis Metro Area, making it the second largest private school system in the Bi-State Region. A Recognized Service Organization of the Lutheran Church-Missouri Synod, LESA represents 31 elementary and 4 high schools, including three National Blue Ribbon Schools and three National Lutheran Exemplary Schools. To learn more about our schools and our mission, visit www.LESAstl.org.
For more information:
Katherine (Kit) Auble
Director, Fund Development and Marketing
314-200-0797 – office
kauble@lesastl.org
www.lesastl.org
Brenda Kimberlin
Communications & Outreach Coordinator
Lutheran Elementary School Association (LESA)
www.lesastl.org
314-496-1799 – cell
bkimberlin@lesastl.org