LESA's "Cooking for Kids" Raises $211,000 for STL Lutheran Schools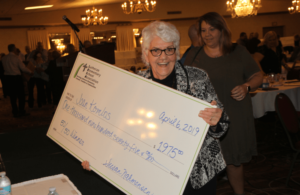 (ST. LOUIS, MO) May 8, 2019 – The St. Louis-based Lutheran Elementary School Association (LESA) raised $211,000 for Lutheran schools at its annual "Cooking for Kids" Dinner-Auction, held April 6 at the Orlando Gardens South. Proceeds from the event will fund need-based scholarships and services for students of all faiths at 33 Lutheran schools in the St. Louis area.
This year's fundraiser featured a special menu prepared by two of St. Louis's rising culinary stars – Lutheran school alumni Alex Cupp, executive chef and owner of The Stellar Hog, and Ben Grupe, a 2018 James Beard Award nominee and executive chef/owner of Tempus, a new restaurant opening this summer in The Grove (Feast article). Cupp and Grupe began their educations at Word of Life Lutheran School Schoolin south St. Louis before moving on to high school (Lutheran South for Cupp) and the widely respected Culinary Arts Program at St. Louis Community College-Forest Park.
Fox 2's Dan Gray hosted the evening, which included the presentation of LESA's 2019 Lutheran Student Christian Leader Award to James Teuscher, a sixth-grader at St. Mark's Lutheran School in Eureka. The award, which recognizes Lutheran elementary school students who demonstrate courage, compassion, leadership, academic achievement and a commitment to their community, includes a $500 scholarship underwritten by the Lutheran Church Extension Fund (LCEF).
James, 11, is the son of Lisa and Ty Teuscher, whofostered and then adoptedhim after he was born with complications. James has five siblings, including a biological sister and a brother, Alex, who was born with special medical needs. In addition to helping his mother care for Alex, James enjoys volunteering with his family in St. Mark's nursery during Sunday services, and helping out at Sunday school when he can. At school, he plays basketball for St. Mark's, takes part in drama productions and watches out for his friend Hugh, a classmate who has special needs. James was nominated for the award by one of his teacher's, Linda Dehn.
"James comes to school every day with a smile on his face," said Mrs. Dehn. "He's just a very genuine, loving, caring child who wants everyone to know about Jesus and he wants to live that out as a leader."
The program also included a tribute John and Joan Komlos, the recipients of LESA's2019 Heritage Award,for their life-long support of Lutheran education. The award
recognizes individuals whose contributions have created a legacy for children enrolled in Lutheran schools in the St. Louis area. As Heritage Club members, John and Joan have established the Komlos Family Endowment, which will help children attend Lutheran elementary schools for years to come.
The Komloses, who live in Arnold, raised and educated four children in St. Louis Lutheran schools (St. John's Lutheran in Arnold and Lutheran South). Their children – John, Don, Joani and Ron – have continued their parents' commitment to Lutheran education. John is a past president of the Lutheran High School Association and Ron is a former board member of LESA.
"We firmly believe in parochial education and that's why we support LESA and its mission to make Lutheran schools available to every child and family, regardless of income," said Joan.
Joan and John have served in numerous ministries at St. John's, Arnold and Hope Lutheran in High Ridge. John, a floor-layer and 60-plus year member of the Carpenter's Union, has donated services  to countless congregations and organizations. Joan, who owns Estate Sales by Joan & Don with her son, has given time to Lutheran Children and Family Services' resale shop and auction event, and is a past president of the Lutheran Women's Missionary League.
"Cooking for Kids" is LESA's largest and most important annual fundraiser to support and secure the future of Lutheran Christian education. Since 2004, LESA has awarded over $5.1 million in need-based scholarships to more than 3,000 children of all faiths in the St. Louis area. Thanks to this and other fundraising efforts, 1 out of every 8 students attending a LESA-member Lutheran school receives some level of financial assistance. This year, the Lutheran Legacy Foundation will further that mission with a generous match for endowment gifts and pledges made in 2019.
To learn more about donating to LESA, or setting up a named endowment, contact Katherine "Kit" Auble at 314-200-0797, or kauble@lesastl.org.
About LESA
More than 7,800 students attend Lutheran schools in the St. Louis Metro Area, making it the second largest private school system in the Bi-State Region. A Recognized Service Organization of the Lutheran Church-Missouri Synod, LESA represents 31 elementary and four high schools, including three National Blue Ribbon Schools and three National Lutheran Exemplary Schools. For information on enrollment, visit www.lesastl.org.