LESA Secures CARES Act Funding to Protect Scholarships, Services during COVID-19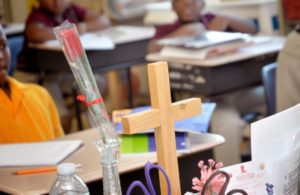 As we navigate the new reality of this pandemic, our worries and concerns are for the students and schools that we serve. Although much remains unknown about this virus, one thing is certain – the financial impact of this crisis on the families we serve will be severe. Over the last 15 years, LESA has awarded more than $5.5 million in financial assistance to children of all faiths enrolled in our 31 member Lutheran elementary schools. But as this crisis continues, we know that many more students will need our help.
Under the careful and continued guidance of our LESA Board of Directors, we are doing everything we can to prepare for and meet that need. When Congress passed the CARES Act in March, which authorized funding for the Paycheck Protection Program, we moved quickly to apply for and receive assistance to cover payroll, rent and utilities. The program, administered by the Small Business Administration, is designed to help non-profits and small businesses keep their workers employed. For LESA, this emergency funding means we can continue to serve our schools during this time of need. In addition to that action, we recently secured an emergency line of credit to provide an added level of protection during these uncertain times. We are thankful for our ministry partners and donors who continue to support our mission through sponsorships, endowments, online donations and participation in our major fundraisers, our annual Cooking for Kids Dinner-Auction and Brew in the Lou (pending – Oct. 10, 2020).
So it is with hopeful hearts that we move forward with our mission to make Lutheran education available to every child, regardless of circumstances. Our LESA Scholarship Awards Committee is making tentative plans to meet in June to review applications for the 2020-21 school year. So far, we have seen a 48 percent increase in qualified applications compared to last year. Nevertheless, we are asking our member schools to encourage all eligible families to apply for assistance, including new students. We are also asking schools to alert us to families whose employment has been affected by the Covid-19 crisis. We know that for many families, this will be the first time they have had to ask for help. We know that with the Lord's guidance and your continued support, we will be here to provide it.
To find out how our schools are teaching and connecting through this crisis, click here.