LESA Volunteer Spotlight: Ken Horvath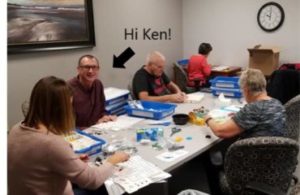 Retired teacher Ken Horvath has been sharing his time and talents with Lutheran school students for 40 years, first as a teacher and now as a volunteer for LESA. Ken and his wife Gail are also creating a lasting legacy for Lutheran education through planned giving.
Read on to learn more about Ken's commitment to LESA and our member schools.   
How & why do you volunteer for LESA?  
When called upon, I help sort, organize and inventory the Lego Education WeDo 2.0 and Mindstorm EV3 robotics sets after they come back from use at one of our Lutheran schools. 
I taught at Green Park Lutheran School for 30 years ending in 2010 before I took a call to serve in Vietnam at Concordia International School Hanoi before I retired in 2016.  For ten years at Green Park I helped with an after-school First Lego League robotics team.  Managing, organizing, purchasing parts and obtaining funds was part of that.  Using that experience to help LESA inventory their sets seemed like a good way to continue to help serve kids in our Lutheran schools in a small way.
(Click here for news coverage of Ken's time at Concordia International School Hanoi.)
How did you become involved with LESA and Lutheran education? 
Both my wife and I are graduates of Concordia University Nebraska and have been Lutheran Elementary educators all our lives. Coming to St. Louis introduced us to LESA and their workshops for teachers.  My wife, Gail, served with LESA's Educational Resources director Laura Montgomery at Abiding Savior Lutheran School. With those relationships it was easy to say "yes" to volunteer some time.  I like the saying, "Many hands make a burden light."
Why is Lutheran education important? 
It is vital that families nurture their children with the Word of God in their homes, worship life in church, and in their formal education.  This provides continuous exposure to the work of the Holy Spirit as He brings His message of salvation.  Children are receiving the same message and values from home, church and school. Along with that and motivated by God's love, Lutheran schools strive to provide the best possible education.  
You recently decided to support LESA through planned giving. Why? 
Yes, as part of our estate planning we have included LESA through The LCMS Foundation that will provide ongoing support. This was an easy decision to help support Lutheran schools locally so that the Gospel will continue to be proclaimed to children for generations to come. Gail and I understand the financial struggle to send children to a Lutheran school and – as Lutheran teachers – making each school dollar stretch and going without. By supporting Lutheran schools financially, we hope to ease that burden a bit, making it easier for families to decide to send their kids to a Lutheran school. 
What do you do when you're not volunteering for LESA?
Currently we are members of Historic Trinity Lutheran Church in the Soulard area.  I enjoy helping to upkeep the grounds and do some painting around church.  Gail enjoys singing in the choir.  We help take care of our grandsons two days a week and like to travel. 
Hobbies or interests, in addition to LESA?  
Gardening, traveling, family history, science.
Favorite Scripture Quote?
1 Corinthians 1:18-25, at the moment – I guess particularly verse 25: 
"For the foolishness of God is wiser than men, and the weakness of God is stronger than men."
But the whole thing is quite good especially in giving us a point of view as we teach the knowledge of men and the good news of salvation in our Lutheran schools. God's Word comes first.
Thank you, Ken, for supporting LESA and Lutheran schools!