The St. Louis-based Lutheran Elementary School Association raised a record $275,000 for Lutheran schools in St. Louis and southern Illinois thanks to an extraordinary matching gift and the success of its first-ever Cooking for Kids livestream event and auction, which streamed online April 17, 2021.
Proceeds from the event will help LESA meet an ongoing critical need for tuition assistance for students of all faiths attending Lutheran schools in the St. Louis area. Applications for need-based tuition assistance are up 55 percent since the pandemic began last spring. The funds raised will also support educational resources such as STEM programs, counseling services, professional development and curriculum guides for LESA's 35 member schools. 
"Cooking for Kids is our largest and most critical annual fundraiser," said Sue Nahmensen, LESA's CEO. "Many of our families are still struggling to recover from job loss and other hardships related to the economic shutdown, so these funds will have an immediate impact on our schools and families."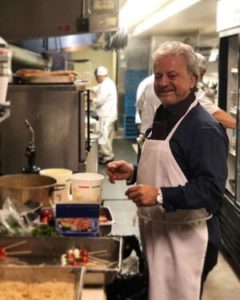 In place of a live event, Cafe Napoli owner Tony Pietoso, a Lutheran North alum and co-founder of the Napoli family of restaurants, created two custom Cafe Napoli Cooking Kits to benefit Lutheran schools. The kits – Ravioli Truffle Burrata and Chicken Parmesan – included ingredients, cooking instructions and access to an exclusive online cooking demonstration featuring Tony in Cafe Napoli's kitchen. The dinners, which sold for $60 each, also featured a premium bottle of imported Italian wine selected by Tony's son, Ande Pietoso, general manager of Cafe Napoli in Clayton. In the days leading up to the online event, a team of 16 LESA volunteers delivered 217 Cafe Napoli Cooking Kits directly to purchasers' doors.
"Lutheran education changed my life because it made me a better person and made me who I am today," said Pietoso, who grew up in Lutheran-run orphanages in Italy after his parents became unable to care for him and his siblings. Pietoso, who moved to St. Louis as a teenager to play soccer for Lutheran North, shared his remarkable story in a video that aired during the livestream event. 
The presentation, hosted by Master of Ceremonies Jim Dankenbring and auctioneer Dave Drewes, also featured a live, online auction, a Building Blocks Scholarship Fund-a-Need appeal, a 50/50 drawing and special tributes to our Lutheran luminaries – 2021 Lutheran Student Christian Leader Anna Spelbring, a graduating 8th grader at Zion Lutheran School in Belleville, and 2021 Legacy Honorees Vernon & Joann Schroeder – and a video "Thank You" for the 500 Lutheran educators who have been teaching students in-school throughout the pandemic. The event attracted 593 online guests, including 174 auction winners. Items included Cardinals "green seats," Blues tickets, one-of-kind jewelry and sports memorabilia, and exclusive golf and vacation packages. 
Since 2004, LESA has awarded more than $6.5 million in financial assistance to families of all faiths in St. Louis and southern Illinois. To help advance that mission, the Lutheran Legacy Foundation has pledged to provide a generous match for new named endowment gifts and pledges made in 2021. 
To donate to LESA, or participate in next year's Cooking for Kids, contact Katherine (Kit) Auble, LESA's Director, Fund Development and Marketing, at 314-200-0797, or kauble@lesastl.org
About LESA
More than 8,200 students attend Lutheran schools in the St. Louis Metro Area, making it the second largest private school system in the Bi-State Region. A Recognized Service Organization of the Lutheran Church-Missouri Synod, LESA represents 31 elementary and 4 high schools, including three National Blue Ribbon Schools and three National Lutheran Exemplary Schools. To learn more about our schools and our mission, visit www.LESAstl.org.
###
Media Contact:
Katherine (Kit) Auble
Director, Fund Development and Marketing
314-200-0797
kauble@lesastl.org
www.lesastl.org
www.facebook.com/lesastl.org